Perhaps you've seen them before and wondered what they were. Or you've seen them and never given them a second thought—the hanging pairs of sausages that look like rectangular sticks of meat, commonly displayed in countertop cases in Wisconsin bars, markets, and convenience stores, particularly in and around Green and Dane Counties. This is landjaeger, a popular regional smoked sausage snack, often confused with jerky, that can be stored at room temperature without spoiling. It's fermented, cured, delicious, and often misunderstood and mispronounced.
I've enjoyed landjaeger for most of my life, thanks to an uncle who would bring an upstate New York interpretation to our family camp in the Adirondacks. When I landed in Madison in 2018 and noticed the many different styles and brands in Wisconsin, I began researching this mysterious meat snack. Initially I found little information on the product or the process of making it. But what I did find was fascinating and the more I dove into the history of Green County landjaeger, the more inspired I was to dig deeper into the role landjaeger has played in Wisconsin towns such as New Glarus, Monticello, Monroe, and Fitchburg. I learned not only about the history and production of landjaeger itself, but also about the hard-working family producers that have been crafting this product for decades.
According to every producer and expert I talked to, the proper pronunciation of landjaeger is lond-yay-gurr. It was fun to hear producers list the mispronunciations they've heard over the years, such as "land-jaggers," "ingle-lingers," and "landigoogle." Spelled landjaeger in Swiss, and landjäger in German, the word roughly translates to "country hunter" or "land hunter." Hunters in need of sustenance while traveling the early European countryside carried landjaeger because it's packed with protein and altogether delicious.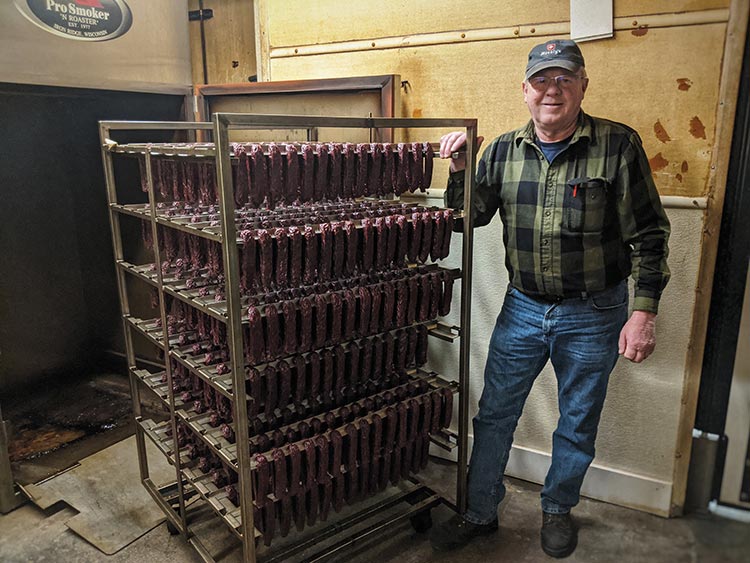 Landjaeger and jerky are only similar in that they're both meat snacks. The process for creating jerky involves spicing and drying and can be completed over the course of a single afternoon. Things get more interesting when you start talking about sausages, and more specifically, fermented and smoked sausage snacks like landjaeger.
Many people are surprised to discover that landjaeger is fermented. The process of crafting landjaeger is incredibly labor and time intensive, and the associated visits by state meat inspectors leave zero room for error, which helps explain why so few producers make it. The process of making landjaeger follows these basic steps:
Mix ground meat batter with spices, cure, sugars, and a lactic starter culture
Stuff the batter into pork casing to form a pair of sausages
Place the sausage into stainless steel molds or forms (specialized plates that give landjaeger its iconic rectangular shape)
Stack the formed landjaeger, and allow it to sit for a number of days in a cooler 
Place the formed landjaeger into a smoker and conduct a fermentation process to develop unique flavors, textures, and the desired acidity (normally 5.2 pH)
Raise the temperature within the smokehouse to destroy any dangerous bacteria
Remove landjaeger from smoker and dry to 70% of original weight
Complete the process by vacuum sealing landjaeger or by hanging them in display racks
Traditional landjaeger has five distinct characteristics: they come as a joined pair, are hickory smoked, are flattened, are comprised of beef or a combination of beef and pork, and are fermented and therefore shelf-stable.
Most landjaeger I've tried came in pairs (though I have been to at least a half dozen spots where it's served as singles or by the pound). A joined pair is required to hang in the wooden or acrylic display cases you often see around Wisconsin, which is reminiscent of the way landjaeger is displayed in open markets and brick & mortar shops in Europe.
Hickory smoking seems to be the most common practice amongst Wisconsin producers. Apart from the well-known Nueske's Meats in Wittenberg, Wisconsin (which prides itself on applewood-smoked meats), I have yet to speak with anyone who doesn't use hickory smoke.
The flattening of landjaeger is tricky. While most producers flatten their landjaeger in what they call molds or forms, others—such as Milwaukee's Usinger's Famous Sausage—create a rounded product reminiscent of a cooked brat. Usinger's landjaeger is quite delicious, and they have over 140 years of sausage-making experience, but based on my research of old recipes and practices, I would still argue that flattening is part of traditional landjaeger production.
The combination of beef and pork seems to vary widely. While some meat products you'll find around Green County feature veal or venison, I have never come across a producer, recipe, or book that mentions any meats in landjaeger other than beef and pork. And while it does seem common to use only beef, I have also never come across a recipe calling for all pork.
One of the key factors in landjaeger's popularity is the fact that it is shelf-stable which allows "country hunters" to take it with them without fear of spoilage. While you'll often find landjaeger vacuum-sealed, there's no denying there's a beautiful evolution of landjaeger's flavor once it's been removed from its packaging and exposed to oxygen. As any landjaeger fan will attest, leaving it out a few days or even weeks is necessary to explore its true depth of flavor and mouthfeel.
Distinctive packaging by producers' retail shops is also a part of the landjaeger's appeal. Landjaegers labeled with paper tags, tied with string, and displayed in wooden and acrylic cases shaped like little chalets, convey yet another aspect of the sausages' deep, Old-World Swiss and German heritage. Grabbing a pair of air-dried landjaeger from these racks is part of the experience, and undoubtedly one reason why landjaegers are so eye-catching and popular in shops across the state. 
Each producer's artistic flair is revealed in the blend of spices they choose—blends that are strictly proprietary and help to play a large part in giving the sausage its unique and distinct identity (other major factors include acidity, smokiness, and shape). When talking with producers, their spice list was the thing they held closest to the vest. Spices most often used in landjaeger include caraway, coriander, black pepper, allspice, celery seed, garlic, cumin, and nutmeg. Some shops like Hoesly's in New Glarus have their spices pre-mixed for them, and others, like Bavaria Sausage, mix their own by hand before each batch is made.
These variations among producers make each brand of Green and Dane County landjaeger unique. And even if one landjaeger producer were able to see another shop's spice bill, there is little chance they could replicate the same exact product due to other factors such as starter cultures, meat and wood sourcing, in-house protocols and practices, and general meat shop terroir. 
Small local meat producers are often important repositories of unique meat processing and preservation knowledge, passing their skills from one generation to the next. Yet each producer I spoke with mentioned the closures of multiple local meat shops over the years. I witnessed one of Green County's most historic meat shops, Ruef's Meat Market, close up shop in March 2020 (after a 106-year run). One issue is how to remain competitive in an industry that has become highly concentrated in the hands of a few large companies.  Local shops are also challenged by a shortage of younger people entering the business.
But states are taking action, including Wisconsin. Since 2010, The UW-Madison has conducted a Meat Science Extension class called the Master Meat Crafter Training Program, a first-of-its-kind workshop that hosts meat industry professionals from all over the world for two years of in-person classes, plant projects, homework, and a mentorship program. And in Minnesota, two community colleges have re-introduced meat-cutting programs to their curriculums. Central Lakes College in Staples and Ridgewater College in Willmar are launching their apprentice prep programs in meat cutting and processing this coming fall. It's the first time in 20 years that any meat processing programs have been offered at Minnesota colleges.
Hopefully, programs like these will help guarantee a future supply of landjaeger, a fascinating and unique Wisconsin product that stands out in the world of meat snacks and sausages. Whether you're a "country hunter" or just someone hunting for a snack that's a little different, visit a local meat shop and pick up a pair of landjaeger for your next trek, wherever that might be. Enjoying delicious, nourishing landjaeger while supporting a small, family-run Wisconsin business is a win-win!
All photos by Jesse Brookstein