We strike out for Together Farms one evening in mid-May. The minivan is packed tight: every bench and bucket seat claimed by one family member or another. My father sits shotgun, my mom is in the back, with my wife and our three children in the remaining seats. We are a loud, enthusiastic, and hungry bunch.
Heading south from our home in Eau Claire, we careen around the winding roads for 20 miles or so, into western Wisconsin's Buffalo County. For my parents—recent transplants to Wisconsin—every red barn, bald eagle, and sandhill crane along the way maintains some novelty. And none of these are in short supply.
Cresting the final hill, we spot Together Farms tucked into a tree-lined valley off to our left. We park in a grassy lot alongside a few dozen vehicles while a flock of disinterested sheep grazes nearby.  Ahead of us: a dirt path leading toward the food truck where we'll soon place our orders.
Situated on 160 acres amid rolling hills, the small family farm is owned and operated by Stephanie and Andy Schneider, with the help of their two daughters. When the Schneiders purchased the property in 2010, they hoped to turn it into a hobby farm.
Stephanie tells me about the process as we chat between the food pavilion and the pigs later that night. "We bought some cattle and pigs just for ourselves. But then we thought, 'You know, we could raise a couple more and sell them. It's not any more work. We're already feeding and watering them anyway.'"
While the additional animals may not have added to work on the production side, they created plenty more work in terms of sales and marketing. The Schneiders began selling their 100% grass-fed beef, and pasture-raised pork and lamb at farmers' markets throughout the region, while holding down full-time jobs beyond the farm—Andy as a woodworker and Stephanie as a nutrient management specialist for Dairyland Labs.
The Schneiders had moved to their rural home to spend more time together as a family, yet their many responsibilities had the opposite effect: propelling them beyond the farm just to keep the farm viable. The Schneiders also faced a second problem: thanks to their pigs, they had a never-ending supply of lard filling their freezer, with no end in sight.
One night, Stephanie came across a post by PBS Wisconsin's Wisconsin Foodie TV show. The host, Kyle Cherek, asked people to name their favorite place for a burger.
On a whim, Stephanie added Together Farms to the comments thread.
In theory, it seemed the perfect plan to solve both their problems. Rather than bring the farm to people via endless trips to farmers' markets, why not simply bring people to their farm? 
And what better way to get rid of their surplus of lard than by frying up fries and cheese curds?
"We had zero restaurant experience. But then again, we also had zero farming experience," Stephanie laughs. "I like to joke that since we weren't losing money fast enough with the farm, we thought, 'Why not open a restaurant, too?'"
Yet when Stephanie's comment caught the attention of the Wisconsin Foodie team, the Schneiders were given a chance to test the profitability of their burger farm idea. In 2017, Wisconsin Foodie filmed an episode at Together Farms. Shortly after it aired, the influx of guests from all over the state confirmed for Stephanie that they'd struck upon something special.
While the farm-to-table movement had been fashionable for years, the Schneiders took it further by creating a "farm-and-table" experience. Rather than ship farm fresh food to restaurants, the farm became the restaurant. Like Wisconsin's many pizza farms, Together Farms relied upon the produce in their own backyard to fill their tables. 
But since Together Farms is meat-focused—and has no shortage of lard—Stephanie wanted to create a menu that played to the farm's strengths. Today, patrons are treated to the usual fare—cheeseburgers, cheese curds, and ice cream floats—in addition to more creative options like the yodeling burger (grass-fed beef, Swiss cheese, sauerkraut, Thousand Island on a pretzel bun) and mouth-watering poutine (fries topped with Ellsworth curds and specially made gravy.)
While Together Farm's supply can't fully keep up with demand, Stephanie's proud that most of the beef comes from their herd just beyond the tree line. She explains that all their food is made locally from the freshest, cleanest ingredients available.
While in their early years, local restaurants supported them by buying their beef, pork and lamb, Together Farms is now purchasing produce and additional meat from like-minded farms throughout the region. In doing so, they've created their own ecosystem—one that prioritizes healthy living, eating, and sustainability.
"It's been cool," Stephanie says, "watching the rising tide lift all boats."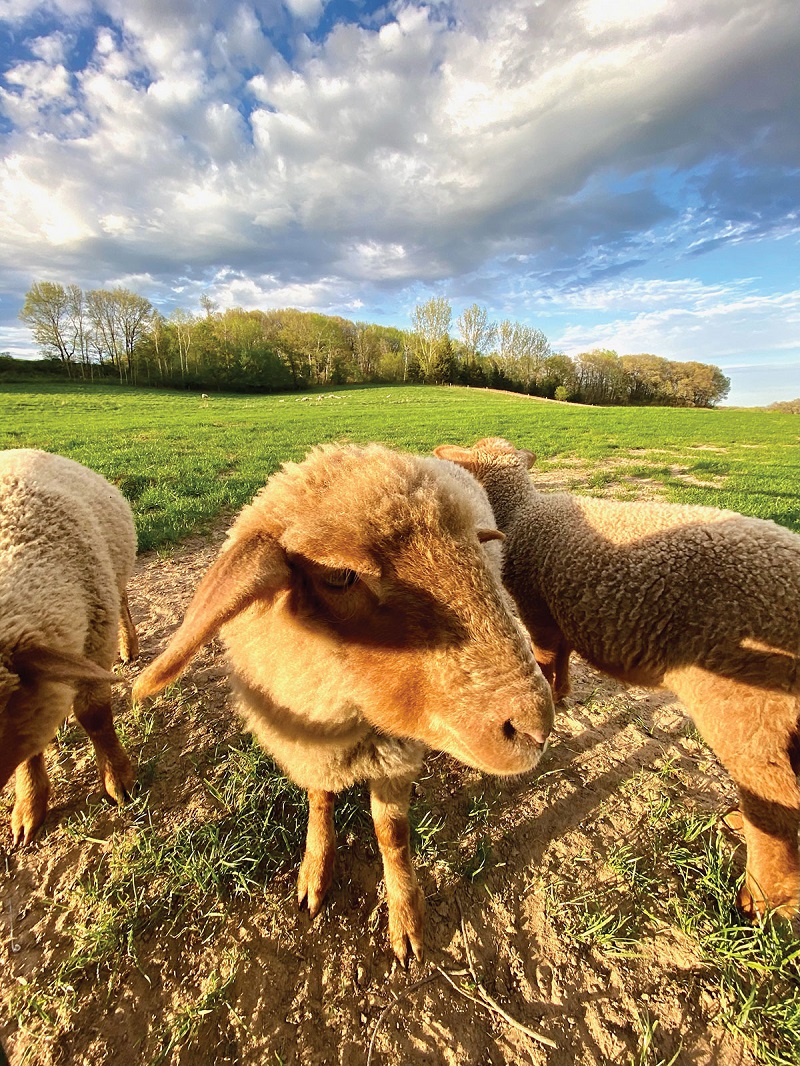 From 6pm until sundown, my family and I enjoy most everything Together Farms has to offer. And not just in the culinary sense. After sampling an array of burgers, the kids tear off toward the swings and slide, then off to the gaga pit. They take their turn at the miniature climbing wall, tour a playhouse, and then—when my back is turned—sprint toward a pile of dirt and begin hurling dirt clods into a muddy stream. My 10-year-old son and a couple of his buddies bypass the pond toward a hiking trail that leads to the farm's highest point. From that vantage, they can see a gathering of a hundred or so people playing cornhole, enjoying locally brewed beer and feeding the pigs their table scraps.
My parents—who, before moving to Wisconsin, had never even heard of a burger farm, let alone visited one—marvel at the convergence of good food and great people amid a picturesque backdrop. Where has this place been all their lives?
Adding to the ambiance is Together Farm's unofficial mascot, Mr. Fluffypants—a Great Pyrenees/Newfoundland/Great Dane mix who casually roams the ground in search of abandoned plates.
"Mr. Fluffypants is the real reason we do burger night," Stephanie joked, "so people can help us feed him."
Adjacent to the open-air pavilion, a guitarist performs songs by Bob Dylan, Neil Young, and John Prine. Gripping her hands, I send my two-year-old daughter airborne as we spin circles across the makeshift dance floor, stirring up dust with every step. Beneath the music, I hear the lull of laughter and chatter at the end of a long week, at the end of a long winter.
Though I'm 20 miles from home, quite fortuitously, Together Farms reunites me with a former student, a couple of colleagues, and half a dozen friends—all of whom have made the drive for a burger, a beer, and a little live music. Maskless and in the fresh air, it occurs to me that I haven't seen some of these folks since before the pandemic.
That this place has brought us together confirms the farm has the right name.
Shortly after dusk, I pry the last dirt clod from my children's fingers and prepare to make the walk back toward the van.
"Everyone have fun?" I call, and receive a rousing "Yeah!" Satisfied smiles grace our faces as we wave goodbye to the pigs, and Mr. Fluffypants, and place a few dollars into the musician's tip jar.
It's been a perfect night—fine food amid a friendly vibe. Earlier, when I'd asked Stephanie what an ideal night on the farm looked like for her, she'd paused to consider the question.
"Well, there are a lot of those nights," she admitted. "When it happens, we have perfect weather, great live music, a good turnout. And," she laughed, "I have enough staff in the kitchen."
Then she turned serious.
"It's hard to see all the good stuff because when I'm here working, I'm just scanning for problems. But when I stand back, and I see that everyone's happy, and that all the pieces are working together, that's magic."
For farm-to-table enthusiasts, that magic provides a true local food experience, and a new source of revenue for the farmers. Together Farm's Burger Night follows the recent Wisconsin phenomenon of the pizza farm, where working farms function as restaurants during the warmer months, mostly serving pizza made with fresh ingredients sourced from the farm and the local area, and often with live music as well.
Other Wisconsin farms that offer an on-the-farm dining experience, some with live music, include Taliesin Preservation (Spring Green), Holy Hill Art Barn (Hubertus), A to Z Produce and Bakery (Stockholm), Stoney Acres Farm (Athens), Suncrest Gardens Farm (Cochrane), The Stone Barn (Nelson) The Borner Farm Project (Prescott) Dancing Yarrow's Farm to Fork Retreat (Mondovi), and LaClare Creamery (Malone). The Milwaukee restaurant Braise occasionally hosts summer dinners on the farm with some of their suppliers.        
At the end of the evening, we've certainly had our fill of food and music and magic, but before we leave, Together Farms grants us one last gift. Just beyond the cars, our eyes return to the once-disinterested sheep, whose bleating now beckons us. The sheep are joined by a cow and a donkey. The latter mesmerizes my two-year-old daughter, who insists we say hello. My wife, daughter, and I make our way toward the fence, and at the two-year-old's insistent yammering ("Donkey, come here…now!), the donkey grants the request for an up close and personal appearance. Sidling up to the fence, he presses his body within petting distance.
"It's okay, donkey," our daughter assures him, stroking his ears. "It's okay."
The swiftly fading sun folds beneath the trees as my daughter bids the donkey farewell.
"Okay, see ya next time, donkey," she calls.
I smile, already thinking about the next time.
Photos by B.J. Hollars