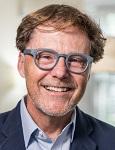 From guest lecturing at Harvard to solo art exhibitions, Jay Handy has come far from humble beginnings. Though he always felt a pull toward the arts, Handy's dreams depended on overcoming a tumultuous childhood culminating in shifting foster care and occasional houselessness. Finally, with the help of a friend's father, Handy enrolled at Michigan State University, and his journey toward success in business and art began.
Jay Handy eventually attended Harvard Business School and obtained his MFA from Lesley University's College of Art and Design. He co-founded SignalPoint Asset Management, where he has served as a financial advisor and senior portfolio strategist for 15 years. Having personal experience with the power of support for overcoming hardship, Handy has volunteered with organizations to benefit causes such as reducing health and economic barriers to success. Handy was the president of The Odyssey Project and the founder of the Diabetes and Sports Foundation. Tapping into his eye for the arts, Handy served as commissioner for Madison's Urban Design Commission, Landmarks Commission, and Dane County Arts and Cultural Affairs Commission. 
Jay Handy eventually turned to answer the call of art he felt in his teens, and Jay Handy Ink was born in 2018. Today, his art has been added to private collections across the U.S. and included in prestigious exhibitions like the Florence Biennale. Handy has built an international career, with exhibitions in England, Spain, Italy, and India and the publication of his art in the Brazilian magazine Revista Literária Pixé. Handy's dual expertise in business and art led to his role as a strategic advisor and board of directors member for CODAworx. Handy began innovating new ways to showcase his art, creating a method for audience participation that he unveiled at his 2022 solo exhibition, This Must Be The Place. 
Jay Handy currently resides and creates in Madison, Wisconsin.